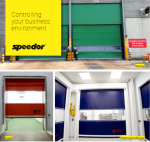 New corporate brochure
Published: 13 September, 2019
HART DOOR SYSTEMS has announced it has published a new corporate brochure covering its product range and project profiles.
Chairman Doug Hart explains it was timely to summarise the success of the company given the daily use of Hart products across countries world-wide in vital, economic, sectors such as aviation, energy from waste, infrastructure, food and beverage production as well as a host of manufacturing processes.
"Above all of course is our internationally recognised Speedor range which is in use as many as 35 countries. I think this is something to shout about especially as the average life expectancy of a typical Speedor is over 20 years and 500,000 operational cycles in normal conditions," says Mr Hart.
t: 0191 214 0404