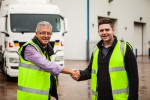 Logistics apprenticeships threatened
Published: 12 September, 2019
RTITB warns that transport and logistics training providers are struggling to fulfil delivery of apprenticeships due to a lack of suitable assessors able to carry out End Point Assessments (EPAs).
The EPA ensures that an apprentice can do the job they have been trained to do and typically comes at the end of a 12-month programme of training and experience in the job role.
"Recently we've spoken to a number of registered apprenticeship training providers who have been given lead times of 3 months by some EPAOs when they've requested EPAs for their LGV Driver apprentices," says Laura Nelson, MD of RTITB, the preferred workplace transport training regulatory body, which is also a registered EPAO for logistics apprenticeship standards.
Click here to read the full release
t: 01952 520200
e: epa@rtitb.co.uk