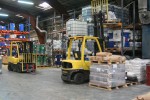 Safely handling flammable material
Published: 23 August, 2019
With potentially explosive atmospheres present throughout the chemical supply chain, Mark Nailer, industry manager for HYSTER EUROPE, discusses the 360-degree Hyster solutions that support compliant and efficient handling.
"It can only take one spark or hot surface to cause an ignition in the potentially explosive atmospheres found across the chemical supply chain," says Mark. "Heat and spark control are therefore primary considerations for businesses involved in the production, storage and transport of flammable chemicals."
The production and delivery of raw materials to a manufacturer is the first stage of the chemical supply chain. These potentially flammable raw materials are likely to be delivered, pumped and stored in large tanks. Drums and IBCs (intermediate bulk containers) may be found indoors or outdoors, in areas where Hyster ICE diesel or electric forklifts will commonly be working. Click here to read the full release.
t: 01276 538500
e: infoeurope@hyster.eu