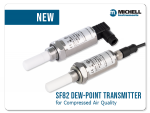 New dew-point transmitter
Published: 21 August, 2019
MICHELL INSTRUMENTS has launched a new fast-responding dew-point transmitter for compressed air quality: the SF82. In compressor rooms temperatures can easily reach 50 °C, while measurements of dew points below -60°C are required. Recognising this challenge, Michell's engineers designed the SF82 to operate effectively in these specific conditions.
The new moisture transmitter uses the PST Group's thick-film measurement technology coupled with microcontroller electronics to provide accurate and stable measurements. As well as an ultra-fast response to moisture changes, the dew-point sensor has an accuracy of ±2 °C dew point.
The company says it is suitable for use in all types of industrial dryers: refrigeration dryers, membrane dryers and absorption dryers.
Click here for the full unedited version of the release as provided by the company