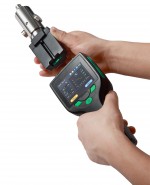 Compressed air pressure dew point monitoring
Published: 17 May, 2019
On-site compressed air pressure dew point monitoring is now said to be accurate and easy with the S505 handheld tester from SUTO-iTEC GmbH and MEASURE MONITOR CONTROL. The results can be read straight from the screen and the S505 measures pressure dew point directly through internal pressure and dew point sensors, removing the need for calculations or correlating readings, saving time for more tests.
The company says measuring is faster too, the dedicated measuring chamber allows the sensor to be isolated while not in use, meaning no more waiting forever for readings to stabilise.
This handheld tester features interchangeable sensor modules for low -100 … -30°C or high -50 … 20°C ranges with easy to read colour touchscreen display and integral datalogger.
t: 01443 772500
e: sales@measuremonitorcontrol.com
w: www.measuremonitorcontrol.com
Click here for the full unedited version of the release