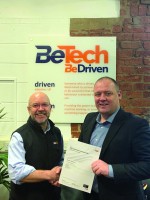 Authorised value provider appointed
Published: 17 May, 2019
ABB has announced Betech has been appointed the first UK ABB authorised value provider for low voltage motors covering the North American NEMA standard.
ABB says the Yorkshire based company has over 20 years' experience in sales, support and application know how for the NEMA product portfolio, having previously worked with Baldor motors before that company was acquired by ABB.
Richard Gee, ABB's UK channel manager for low voltage motors, says: "With its history, expertise and contacts, Betech is ideally placed to become the first UK official NEMA motor partner. As a US standard, NEMA motors are particularly in demand from OEMs exporting machinery to or from the US, or to territories that specify North American standards, such as Saudi Arabia."
As a fully certified ABB authorised value provider, Betech can access ABB's extensive NEMA stock held in Germany and the USA, as well its own local stocks. It offers a wide range of NEMA motors to suit many applications, including severe duty, explosion proof, washdown, pump, fan, HVAC and cooling tower. Betech has also invested in systems and training in order to provide industry-leading service levels and enquiry response times.
"This is the ideal time to become the ABB authorised value provider for NEMA motors as our knowledge and sales of this product range continues to grow," says Chris Benson, managing director of Betech. "Becoming an ABB authorised value provider confirms that we have the full confidence of ABB and that it recognises us as the UK specialist for its NEMA product range."
Click here for the full unedited version of the release as provided by the company