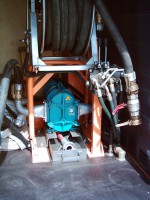 Sludge disposal costs reduced
Published: 09 April, 2019
By using a BORGER Rotary Lobe Pump, a leading disposal company reports it has made substantial savings on traditionally high procurement and operation costs by being able to use its PE tanks as mobile units.
Rather than operate vacuum pumps that are often used to transport the used oil/sludge and grease-separator deposits into pressurised tanks, the disposal company wanted an easier and more cost-effective way to use PE tanks in order to avoid high vehicle tare weight.
The company says compact in its compact design, the Borger Rotary Lobe Pump can be installed on a pick-up truck and powered hydraulically using the PTO (power take-off) from the pick-up truck's engine. A three-way valve enables several tanks to be loaded in the pick-up truck or filled on a trailer.
t: 01902 798977
Click here for the full unedited version of the release as provided by the company