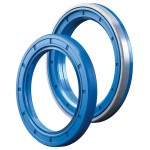 Online marketplace for industrial components
Published: 02 April, 2019
Freudenberg Sealing Technologies says it is creating a turning point in the purchasing of B2B seals and components with its "Industrial Supply and Services" online platform exclusively starting in the UK as the first local market.
The company says the Industrial Supply and Services (ISS) platform is the first online marketplace for high-quality B2B sealing solutions and components, setting new standards in the procurement of industrial parts, constant time pressure and waiting for offers are now a thing of the past and 24/7 availability and local order processing enable unrivalled speed for deliveries within the UK.
Industrial Supply and Services platform is said to be much more than a simple online shop or anonymous marketplace with thousands of offers from daily changing merchants and from completely different needs segments – ISS is an industry-focused marketplace for the UK that includes the offerings of trusted local vendors. To make this possible, Freudenberg says it has worked with its long-standing local trading partners and integrated them as platform vendors in the project. The advantages are obvious: for the customers, this means a larger selection of products as well as comparisons regarding price, availability and additional services. The local order processing also ensures the fastest possible shipping.
The range of products in 2018 for UK is limited to seals of the Freudenberg and DICHTOMATIK brands, but already includes more than 40,000 items – from O-rings to pneumatic seals and rod seals. However, Freudenberg will expand rapidly in terms of entering other regions and extending its product and service offering.
t: +49 (0) 6201 80 89 1907
e: jan.helms@fst.com
Click here for the full unedited version of the release as provided by the company