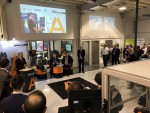 Dedicated consultation and training facility
Published: 22 March, 2019
Industrial lubricant manufacturer HOUGHTON INTERNATIONAL has announced the launch of a new, dedicated consultation and training facility, named the Fluid Intelligence Academy.
Designed to support Houghton's new, European-wide business development department and customer-centric initiative, Fluid Intelligence, the Lancashire-based facility is set to be the first in a series of European rollouts.
Houghton says with consultation at the core of its new initiative, the Fluid Intelligence Academy is designed to facilitate consultation sessions between clients and fluid Intelligence specialists, alongside their regional Houghton account manager.
Partnered with large Group Training Association, Training 2000, the Fluid Intelligence Academy will also serve as a facility to train Houghton employees, clients and apprenticeship students with hands-on learning surrounding industry best practise, through an advanced training syllabus.
Click here for the full unedited version of the release as provided by the company