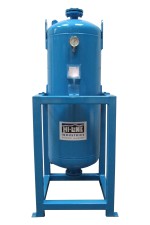 Activated carbon towers
Published: 22 March, 2019
HI-LINE INDUSTRIES, a leading UK supplier to the compressed air sector, has unveiled a range of Activated Carbon Towers to suit a number of diverse applications, including those involving breathing air equipment or food production, for example. The company says the new carbon towers are manufactured from the same high-quality vessels used for Hi-line's dryers, and filled with either zeolite minerals or carbon to suit the suit the specific application.
Activated Carbon Towers are an increasingly popular addition to compressed air circuits, thanks largely to their ability to adsorb contaminants such as oil vapour and odour. As a result, oil levels within the compressed air can be reduced sufficiently for use in sectors where high purity levels are required, like oxygen/nitrogen generation, food and beverage, pharmaceuticals, electronics and healthcare. Such performance levels exceed those possible using desiccant air dryers together with associated filtration.
In the new units, compressed air flows through the activated carbon bed, adsorbing oil vapours and odours. Flow distributors are deployed to ensure uniform air distribution. Some 15 models are available in the range, extending from the smallest at a capacity of 80 Scfm, 136 Nm3/h, up to the largest, at 2000 Scfm, 3400 Nm3/h. The units come with stainless steel gas distributors and are PED compliant to 2016/68 EU, while R55 long-life hybrid activated carbon is used to ensure reliable performance, day-in, day-out. A five-year warranty is offered as standard on parts and labour.
t: 01283 533377
e: enquiries@hilineindustries.com
Click here for the full unedited version of the release as provided by the company