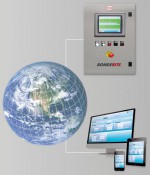 Digital multi-channel controller
Published: 05 March, 2019
HENKEL reports it has introduced a new process control system that addresses key challenges in metal pre-treatment as customers are increasingly seeking to implement data-driven Industry 4.0 solutions. In combination with the company's New Generation Conversion coatings (NGC) for multi-metal substrates, the company says the BONDERITE E-CO digital multi-channel (DMC) controller enables maximum corrosion performance and sustainability at minimised overall process costs.
BONDERITE E-CO DMC is a process control system that allows users to run complex metal pre-treatment lines with up to fifteen or more stages. It features an intuitive touch screen PLC interface and supports fully digitalised process control with flexible communication and remote access functionality.
Thanks to its adaptive open system architecture, the new digital multi-channel control system easily integrates in to customers' existing conversion processes and automation concepts.
W: www.bonderite-solutions.co.uk / www.henkel.com
Click here for the full unedited version of the release as provided by the company