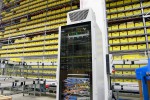 Greater security in manufacturing IT
Published: 13 February, 2019
RITTAL says its teams work closely with leading industrial companies to create IT infrastructures for use with Industry 4.0 technology, including edge computing platforms and it has put together several tips to help companies implement fast-deploying and secure IT for production environments:
The first step when starting any Industry 4.0 initiative or digital transformation within a manufacturing environment, is to define the common goals and consistent use of terms.
One goal should be to achieve real-time processing of measured values through the use of more IT and additional sensors. This will enable innovative applications, such as machine learning, process optimisation and predictive maintenance, which can only be done via big data analysis. Deviations can be recognised very quickly, increasing the reliability of these environments. Click here for the full release.
W: www.rittal.com / www.friedhelm-loh-group.com