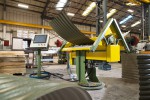 Corrugated curver investment
Published: 31 January, 2019
HADLEY GROUP reports it has reaffirmed its commitment to continually improve its UK production capabilities with an investment into a new corrugated curver at its Oldbury facility.
The company says the benefits of the new corrugated curver are already proving worthwhile, further bolstering its production capabilities and its ability to shape metal. This is helping the company to expand its reach into new markets, particularly within the agriculture sector.
The new corrugated curver takes a sinusoidal metal sheet and bends the material in a gradual way, using a series of rolls housed within the machine. Unlike some alternatives, Hadley Group's corrugated curver is not limited to simply producing smile and half-circle units. The new machine is capable of producing a more comprehensive assortment of shapes.
Click here for the full unedited version of the release as provded by the company