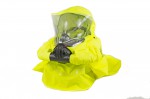 Escape and rescue equipment
Published: 16 January, 2019
British manufacturer of custom-made breathing escape respirators and respiratory protection systems, SEMMCO reports that its entire range of hooded life protection devices is fully compliant with the new PPE Regulation (EU) 2016/425, ahead of the deadline in April 2019.
After April 2019, it is a legal requirement that Respiratory Protective Equipment (RPE) must be compliant with this regulation. The New Approach Directive safeguards that every Personal Protective Equipment (PPE) product on the market will enhance consumer safety. All available RPE must be updated to adhere to the changes to ensure employee health and safety is effectively protected against hazardous or compromised air.
In the UK, a number of workers are killed or seriously injured in confined spaces across a wide range of hazardous industries every year.
t: 01483 757200
Click here for the full unedited version of the release as provided by the company