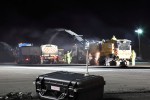 Improved monitoring for site operations
Published: 13 December, 2018
CASELLA, air sampling, noise and vibration monitoring specialist, has announced it has launched an improved version of its Dust Detective Enclosure and says the ideal survey tool for efficient area monitoring, Casella's Dust Detective Enclosure is a game changer in short-term boundary monitoring, on the market from November 2018.
Casella says its Dust Detective provides short-term boundary and environmental monitoring in both indoor and outdoor environments, being able to monitor over 12 hours on its internal batteries and the lightweight, portable equipment is the ideal solution for site operators and managers who need to monitor the levels of harmful dust on site.
The Casella Dust Detective encompasses the Microdust Pro real time dust monitor, and the Apex2 air-sampling pump.