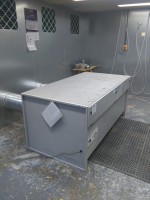 Sanding dust issue solved
Published: 06 December, 2018
Lyndon Design is a high-end designer and manufacturer of stylish furniture, typically supplying the hospitality and leisure industries. During the manufacturing processes, Lyndon manufactures parts in a range of hardwoods. An existing sanding booth was proving insufficient to cope with the dust generated during manual sanding processes and Lyndon approached AIRBENCH to provide a solution.
Following a full site survey and demonstration, AirBench recommended a large, HEPA filtered downdraught bench from its FN range, configured to discharge via ducting outside the booth.
Lyndon says it installed the unit using its own team, and the bench has now been operational for several weeks and the workspace is a cleaner, more effective space and operators have been able to move from Canister masks to paper-type P3 masks.
W: www.airbench.com / www.lyndon.co.uk
Click here for the full unedited version of the release as provided by the company