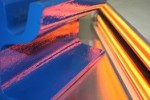 Extensive tests prove suitability
Published: 27 September, 2018
A series of comprehensive tests carried out at the HERAEUS NOBELIGHT Applications Centre in conjunction with Whitford, are reported to have demonstrated that Whitford's Xylan coatings are capable of being cured more quickly with Infrared than by using conventional, large footprint, hot air convection ovens.
Specifically, Infrared offers the benefits of reduced process times and energy costs. Investigations are currently ongoing for using Infrared heating in the coating repair market in the chemical processing sector. Whitford manufactures a large line of high performance fluorpolymer coatings and sol-gel "ceramic" non-stick coatings for a wide range of applications.
Gareth Berry, in charge of the investigation for Whitford, stated "The investigations carried out at Hereaus give Xylan applicators a viable alternative to convection oven curing, which could have cost- and time-saving benefits."
t: 0151 353 2710
e: ian.bartley@heraeus.com
Click here for the full unedited version of the release as provided by the company