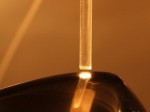 Infra-red emitter
Published: 06 September, 2018
HERAEUS NOBLELIGHT says its new Spotlight infra-red emitter precisely targets a concentrated beam of infra-red energy onto surfaces of plastic components which offer difficult access to allow deburring, clenching or welding.
The company says as such, it is ideally suited for the automotive industry and for all industrial sectors where plastic components need to be further processed after moulding. The emitter will be shown be shown for the first time at the Fakuma exhibition which takes place in October in Germany.
The heat source of Spotlight consists of a shortwave, infra-red emitter with a QRC coating, which is connected to a quartz tube of just 5mm diameter. This tube functions as the guide for the infra-red energy, which can then be focused precisely to the point where it is required.
t: 0151 353 2710
e: ian.bartley@heraeus.com
Click here for the full unedited version of the release as provided by the release