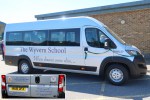 Support for school
Published: 05 September, 2018
PREMIER COATINGS has announced it is supporting The Wyvern School in Ashford by presenting the staff and pupils with their own brand-new minibus.
The £31,000 minibus, donated by the Mayor of Ashford's Charity Project with a £27,000 donation from Premier Coatings, has a specially designed access ramp allowing ease of access for wheelchair users.
Based near the Premier Coatings factory in Smarden, The Wyvern School supports 230 pupils with severe, profound and complex educational needs.
Premier Coatings are a leader in corrosion prevention and sealing technology. The company's products are manufactured in Smarden and are predominantly used within the oil, gas and utilities industries. Its 35-year track record of success was further cemented with the presentation of a Queen's Award for Enterprise in 2017.
t: 01233 770663
Click here for hte full unedited version of the release as provided by the company