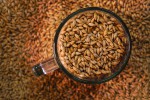 Improved productivity
Published: 18 July, 2018
A production facility that turns barley into malt for use in beer and whisky production reports it has increased productivity and safety by installing a new germination machine controlled by an ABB variable speed drive (VSD).
The VSD controls four gear motors located on the corners of a 15 tonne trolley used to agitate barley during the germination process at Bairds Malt in Witham, Essex. Should a blockage occur, the VSD slows the speed of the motors driving the trolley – known as a turner – giving it time to work through the obstruction.
In the previous installation, the turner was powered by a single motor operating at a fixed speed. As a result, it was unable to slow down, attempting to break up hard lumps of barley by driving through them. This would lead to a current spike and subsequent machine failure.
Furthermore, the machine's attempts to drive through the restrictions would, on occasion, cause the turner to 'jump' backwards, putting workers at risk of serious injury.
Bairds Malt set about re-designing the machine and asked ABB authorised value provider Gibbons Engineering Group to engineer the control package. Since the machine was installed, production stoppages have fallen to practically zero, increasing production time and improving staff safety.
W: www.abb.com
Click here for the full unedited version of the release as provided by the company