Stay on top form this summer
Published: 03 July, 2018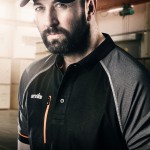 SCRUFFS says it is committed to kitting out trade professionals in workwear that works as hard as they do. As the thermometer rises over the coming months, the company says it knows how important it is to stay cool and comfortable when working in a physically demanding profession and the latest addition to the Scruffs collection, the Trade Active Polo, is designed to be lightweight and quick-drying, and comes in two colours: black and graphite.
Scruffs says with an innovative design that includes incorporated mesh panels for improved breathability and a raglan sleeve for improved comfort, customers will keep cool when work gets tough during the hottest days.
A smart button placket with collar and a dropped back hem ensure a comfortable fit and a smart look throughout the day and after work.
https://www.scruffs.com/workwear/tops/polo-shirts/trade-active-polo.html?utm_source=tpr&utm_medium=plant-and-works-engineering
t: 0115 938 9000
e: sales@birchwoodpricetools.com
Click here for the full unedited version of the release as provided by the company