Annual photography competition puts British manufacturing in the frame
Published: 07 June, 2018
Photographers of all experience levels are being asked to capture the dynamism of modern British industry as the 9th annual EEF Manufacturing Photography Competition opens for entries.
This year the competition - in partnership with the GREAT Campaign - is asking photographers to capture the bright future of British Manufacturing and champion the next generation of talent and technology in the sector. Photographs can portray any stage of manufacturing - from design, process and technology in action through to the finished product – and feature individuals at work.
There are four categories for photographers to enter: Next Generation, Future Technology, Manufacturing Process and Manufacturing Product. The competition is free to enter and open to young, amateur and professional photographers alike.
Entries will be shortlisted by a panel of photography and industry experts, with winners announced at an awards event in London in November. Winning photographers will get their hands on a share of a £5000 prize fund and be in with the chance of having their photos on display in the national and local media.
To give entrants the best shot at winning, companies are being urged to open their doors to local photographers. For information on how to do this, visit the EEF website.
Stephen Phipson CBE, CEO at EEF, says: "The Manufacturing Photography competition shines a light on our forward looking and innovative industry. It celebrates the people and the products that help make manufacturing the beating heart of the UK Economy. I wish all the photographers that enter the competition the best of luck and cannot wait to see the entries when they go on display at the awards event later in the year."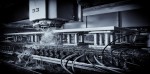 The Rt Hon Dr Liam Fox MP, Secretary of State at the Department for International Trade, says: "We are delighted to support EEF's photography competition which offers a fantastic opportunity for participants to showcase the technology, dynamism and energy of modern British industry and manufacturing, which has played a huge role in seeing UK exports grow by 9.2% to £628bn over the past year.
"As an international economic department, we are on hand to help UK companies to forge new global trading ties that will boost trade, drive growth and provide jobs to every part of the country."
The competition closes for entries on Sunday 30th September. For more information and to enter the competition, visit www.eef.org.uk/photo.