Complimentary service protects drive investment
Published: 31 May, 2018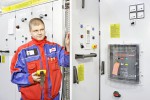 ABB says its new service gives users of medium- and high- power variable speed drives complimentary access to a host of services throughout the warranty period. Drive users now receive access to on-site repair, rapid exchange of faulty parts with access to original spares, telephone support during office hours and technical query escalation.
Customers only need to register the drive at the point of commissioning to activate the service. The registration can be handled by ABB directly or through one of its authorised value providers. Alternatively, customers can download a registration app and enrol the drive themselves.
The company says both telephone and ABB Ability cloud-based remote support offer advice, guidance and issue resolution and this benefits those customers who are trying to get a drive up and running or seeking reassurance that the drive operates as intended. Reduced downtime and plant interruption is further enhanced by escalation to global experts who handle advanced user queries. For medium voltage drives, rare instances of drive failure or condition monitoring can benefit from ABB Ability remote support from specialist teams.
The service is available for all ABB industrial drives including: ACS880, ACS1000, ACS2000, ACS5000, ACS6000, ACS6080, ACS580MV, Megadrive-LCI and DCS880.
w: www.abb.com
Click here for the full unedited version of the release as provided by the company