Routeco Live 2018
Published: 13 April, 2018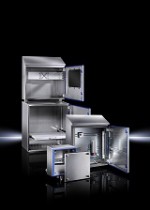 RITTAL says it will once again be joining Routeco Live in 2018, to showcase its renowned infrastructure solutions – widely specified as the no.1 choice for protecting critical equipment – and demonstrate how its products and services can address specific problems faced by different industries.
This year, the Routeco shows are visiting three venues across the UK, featuring the latest industrial controls and automation products.
During Routeco's seminar programme, Rittal's industry manager for food & beverage, Christian Westwood, will be presenting: "Eat, drink and be....... how the humble enclosure can benefit end users in the Food & Beverage sector", exploring how manufacturers in the sector can improve production efficiency, reducing costs and ensuring a growing global population survives and prospers. As part of his presentation, Christian will explain how, where and why electrical enclosures and cooling equipment (a seemingly small part of any production process) can make a significant contribution to maximising efficiency. This includes the impact of 'downtime' and how this represents the worst case scenario for plant operators.
e: routecoLIVE@routeco.com / information@rittal.co.uk
w: www.rittal.co.uk / www.friedhelm-loh-group.com
Click here for the full unedited version of the release as provided by the company