'Next Generation' materials
Published: 18 October, 2017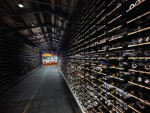 SANDVIK says it is among the sponsors of the upcoming Stainless Steel World (SSW) Conference & Exhibition 2017 in The Netherlands (November 28-30), one of the world's most important events relating to the manufacture and use of corrosion resistant stainless steels and other corrosion resistant alloys.
Sandvik says it has its largest-ever presence at SSW 2017 which this year celebrates its jubilee 10th Edition. Four presentations will be given by specialists from throughout Sandvik's global organisation.
"We are very proud to sponsor and be so closely involved with SSW 2017. Attendees can learn about the significant operational advantages of Sandvik's hydraulic and instrumentation (H&I) tubing. Also, our hyper-duplex stainless steels which Sandvik regards as being the 'next generation' in stainless steels," said Hans Boudewijn, regional sales director.
w: https://www.home.sandvik/en/
Click here for the full unedited version of the release as provided by the company