Contacts in no time
Published: 22 August, 2017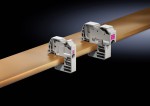 Wires and cables routinely have to be connected to copper busbars when manufacturing control gear and switchgear systems. The conventional approach can be time-consuming and uses screw clamps or fixed conductor connection clamps. But RITTAL says help is at hand, thanks to the launch of its new range of maintenance-free conductor connection clamps. The clamps utilise push-in technology, providing users with a fast, easy and secure method for connecting conductors to busbars.
Rittal says its push-in clamps also have a whole host of other advantages as well as extremely quick and easy cable connection as they are maintenance-free and can be used for many different types of conductors.
Rittal says it has developed a new generation of conductor connection clamps enabling panel builders and switchgear manufacturers to connect cables and wires directly to busbars.
The new push-in conductor connection clamps are available in two clamping ranges, 0.5–4 mm2 and 1.5–16 mm2, and for copper busbars, 5 and 10 mm thick in each clamping range.
The push-in conductor connection clamps enable quick and easy attachment to the busbar.
w: www.rittal.co.uk / www.friedhelm-loh-group.com
Click here for the full unedited version of the release as provided by the company