Flame arresters and breather valves
Published: 04 May, 2017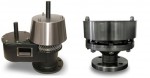 ELFAB says its latest generation of flame arresters offer a brand new and patented construction concept for both deflagration-proof and detonation-proof designs and says the new concept contributes to better performance, easier maintenance (for 100% cleanliness) and easy assembling and disassembling without any risk of damage to the parts.
Elfab says its breather valves comprise a completely new valve philosophy with the introduction of its unique modular design construction resulting in an increased number of configurations to fit various valve sizes reducing costs associated with oversizing and quantity of valves needed to fulfil the application requirements and the design offers better access to internal parts for improved maintenance, while due to the improved construction; less spare parts are needed.
Elfab says further advantages can be achieved with the combination of Elfab's breather valves together with its new generation of flame arresters and both are fully approved and tested to the highest possible standards and all these benefits lead to a cost-effective, superior performance solution and industry best lead-times.
e: sales@elfab.com
Click here for the full unedited version of the release as provided by the company