Automated welding system
Published: 19 April, 2017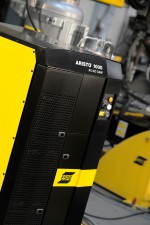 ESAB reports it has supplied an automated welding system to EWP Windtower Production AB for making longitudinal welds in sections of wind turbine towers. The company says the highly efficient submerged arc welding system comprises a CaB 460C column-and-boom that manipulates a tandem single + twin welding head, with a FFRS Super flux feed and recovery system complete with heaters and filter unit.
Power comes from three ESAB Aristo 1000 welding power sources and control is via ESAB PEK controllers complemented by a GMH automatic joint-tracking system.
In addition to this equipment, EWP Windtower Production AB is also using ESAB consumables, namely OK Autrod 12.22 copper-coated, unalloyed welding wire and OK Flux 10.71 agglomerated basic flux.
t: 0800 389 3152
e: info@esab.co.uk
Click here for the full unedited version of the release as provided by the company