Peristaltic pump system
Published: 02 February, 2017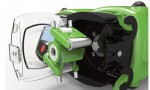 The new Verderflex Vantage 5000 is said to be a highly advanced next generation peristaltic pump system with touch screen technology and intuitive operating system. The company says easy to operate, the Verderflex Vantage 5000 offers an extremely user- friendly operations menu structure with highly visible, color coded on-screen status alerts and alarms indicators.
The company says the advanced system in Verderflex Vantage 5000 not only has enough internal memory that saves up to 30 dosing and batching programs but allows users to back-up job-files through its USB data-port.
Verdaflex says in addition to a rotor that increases tube life and service intervals, the Verderflex® Vantage 5000 has a smart tube burst sensing system and this makes its performance highly reliable when compared with standard basic cased pumping systems.
t: 01924 221020
e: info@Verderflex.com
w: www.Verderflex.com/en/vantage5000
Click here for the full unedited version of the release as provided by the company