Filter press applications
Published: 19 January, 2017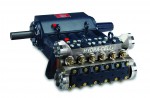 HYDRA-CELL pumps are reported to be finding favour in filter press applications for both chamber feeding at high pressure and for fuelling the cloth washing operation.
Acid washing of filter cloths is used extensively in metal finishing. A low pressure acid solution is recirculated through the filter press to partially dissolve and dislodge the solid particles that 'blind' the cloths. Particles in this aggressive recirculating solution can cause catastrophic damage to pumps with dynamic seals but being seal-less by design, Hydra-Cell pumps are reported to be unaffected and give many years of trouble-free service.
Now, with the addition of the Q Series high horsepower quintuplex pumps, the Hydra-Cell range is said to cover virtually all flow requirements for this application.
t: 01252 816847
e: NHerrington@wannerint.com
Click here for the full unedited version of the release as provided by the company