Magnets and magnetic solutions on show at Southern Manufacturing & Electronics 2017
Published: 18 January, 2017
BUNTING MAGNETICS and eMagnets UK report they will be magnetically attracting visitors to stand U74 at the Southern Manufacturing & Electronics show to be held at FIVE in Farnborough, UK (21st to 23rd March 2017). On the stand will be a range of magnets, magnetic assemblies, magnetic factory solutions, and magnetic separators.
Bunting magnetics says with its design and manufacturing European headquarters in Berkhamsted, UK, it specialises in providing customers with magnet and magnetic assembly solutions and the UK manufacture of plastic bonded magnets, specialist and bespoke magnetic assemblies and magnetising equipment, accompanies the supply of permanent magnets, including neodymium iron boron (such as discs, rings, rectangular blocks, and slugs), samarium cobalt, alnico and ferrite.
Bunting's e-Magnets UK provides an on-line shop for the purchase of a wide range of Magnets and Magnetic Products. The extensive range is shipped from Bunting's Berkhamsted facility, most within 24 hours.
t: 01442 875081
e: sales@buntingeurope.com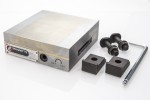 Click here for the full unedited version of the release as provided by the company