Training courses
Published: 15 December, 2016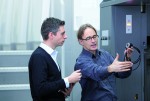 BALLUFF says it runs training courses throughout the year and the objective of its hands-on workshops is to teach the participants the optimal way to solve tasks related to industrial applications. Balluff says during the training, it will share its practical knowledge based on many years of experience as a manufacturer.
The company says to ensure the best environment for learning, its workshops are conducted in small groups and it has a variety of standard courses which include sensor technology basics, development of vision control applications, use of RFID systems in manufacturing and intelligent network connection systems with IO-Link interface. Additionally, it has tailor made courses, where it will discuss individual needs.
Participants are encouraged to bring examples of their own applications to the training.
t: 01606 812777
e: training.uk@balluff.co.uk
Click here for the full unedited version of the release as provided by the company