Corrosion protection package
Published: 15 February, 2016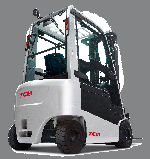 TCM forklifts reports it has raised the benchmark in corrosion protection with a new anti-corrosion assurance for its counterbalance truck range (FTB, FB and FHB).
The company says its new CPP (Corrosion Protection Package) has been introduced to ensure that the highest level of protection is built-in for industries which have essential corrosion protection standards or who need to protect equipment from aggressive operating environments.
Typically food and chemicals sectors have impeccable hygiene and safety standards, now TCM says its forklifts which carry the CPP option are able to support and maintain these essential needs by ensuring protecting against rust.
To protect its equipment from corrosion in operating environments that present humid conditions or other corrosive conditions, TCM says it is also offering a new type of optional Corrosion Protection Package
t: 01844 219265
Click here for the full unedited version of the release as provided by the compnay