When one sweeper won't do
Published: 12 January, 2016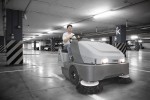 NILFISK says personnel tasked with keeping a busy site clean are often faced with the same dilemma - how best to clean a large facility with a myriad of different cleaning requirements coupled with time, labour and budget constraints?
Having a range of sweepers on hand to cope with all eventualities can be ideal and Nilfisk says as one of the world's largest manufacturers of commercial and industrial cleaning equipment it has a range of sweepers offering a complete and affordable solution to all cleaning challenges. These include: manual sweepers, walk behind sweepers, ride on sweepers and heavy duty sweepers .
Nilfisk says all sweepers are available with or without its trademarked DustGuard misting system which constantly sprays a very fine mist to suppress air borne dust.
Click here for the full unedited version of the release as provided by the company