Seal-less diaphragm pump
Published: 04 December, 2015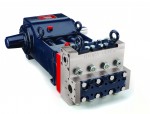 WANNER has launched the Hydra-Cell T8030, a Triplex diaphragm pump that it claims eliminates leaks, hazards and the expense associated with replacing seals and packing.
Pumping up to 98 l/min at pressures up to 345 bar, Wanner says the Hydra-Cell T8030 boasts a unique diaphragm design that handles more abrasives with less wear than gear, screw or plunger pumps and it can operate with a closed or blocked suction line and can run dry indefinitely without damage, eliminating downtime and repair costs.
With three hydraulically balanced diaphragms in a single pump head, designed to handle high pressures with low stress, the Hydra-Cell T8030 is said to be energy efficient and have a lower energy requirement than similarly rated centrifugal pumps.
t: 01252 816847
e: NHerrington@wannerint.com
Click here for the full unedited version of the release as provided by the company