Swarm intelligence
Published: 20 October, 2015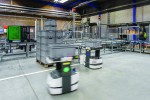 KNAPP says the open shuttle driverless vehicles it has supplied to agricultural products supplier, Grene, at the company's automated warehouse utilise swarm intelligence to optimise transport processes.
An international group serving the industrial, wind power generation and agricultural sectors, Grene Agro holds more than 100,000 items in stock and offers a same-day delivery service.
Grene reports it decided on a comprehensive expansion and retrofit of its existing warehouse in order to meet growing demand and become equipped for multi-channel distribution. At the heart of the new solution was KNAPP's OSR Shuttle goods-to-person storage and picking system and, working alongside it, the Open Shuttle mini Automated Guided Vehicles (AGVs), which independently handle complex transport jobs.
t: 01844 202149
Click here for the full unedited version of the release as provided by the company