Versatile safety camera
Published: 15 October, 2015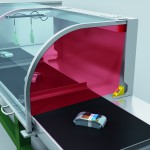 SICK UK has launched the V300 infra-red vision camera said to offer a convenient and reliable Type 3 alternative to a safety guard light curtain in production and warehouse environments.
The ISO 13849-1 PLd compliant and competitively-priced SICK V300 has a resolution of 20mm and is suitable for protection of areas up to 1.5m by 1.5m, or more if synchronised as a multi-device unit.
"The V300 is an incredibly useful device," comments Dr Martin Kidman, SICK UK machinery safety specialist. "It also solves the problem where a Type 2 light curtain now no longer meets the requirements for PLd applications and the change to a Type 4 light curtain is too expensive, or is clumsy and intrusive".
The SICK V300 safety camera is an infra-red based scanner with a camera chip system that detects light reflected from a strip of reflective tape mounted opposite which defines the protected field.
t: 01727 831121
e: andrea.hornby@sick.co.uk
w: www.sick.com
Click here for the full unedited version of the release as provided by the company