CPD Seminars
Published: 15 October, 2015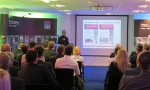 This November, RITTAL reports it will be running its next series of accredited seminars designed to support industry professionals
in their Continuing Professional Development (CPD).
Rittal says the success of the company's CPD programme, which launched last year, has prompted it to be expanded to cover two new topics about enclosures. Topics explored within the programme now include: the relocation of data centres; their energy efficiency; the application of IEC 61439; enclosure equipment protection; and energy efficient cooling.
Rittal says the seminars have all been reviewed and assessed by the Chartered Institute of Building Engineers (CIBSE) and all attendees receive a certificate as evidence of their participation.
The seminars are free of charge and include short informative presentations and a workshop.
New for this year is Energy Efficient Cooling covering an overview of the importance of the adequate provision of appropriate cooling when specifying enclosures.
Also new is Enclosures Equipment Protection covering the considerations needed to ensure the correct and safe specification of industrial enclosures.
t: 01709 704000.
e: info@rittal.co.uk
Click here for the full unedited version of the release as provided by the company