High efficiency containment booth
Published: 15 October, 2015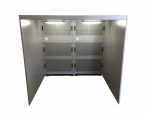 AIRBENCH has announced the release of its new modular booth designed for attachment to the VertEx cross-draught system. The company says using the new modular booth construction, a full environmental containment booth can be built rapidly from standard parts.
AirBench says the use of very high efficiency fans allows the complete booth installation to operate from low power supplies while achieving very high airflows. The booth shown in the image is approximately 2.5m wide, 2.4m high, and 2.2m deep, and draws more than 20,000m3/h. This air movement, and the associated booth lighting, all runs from a single 13a socket.
The fully modular construction allows for any width of booth to be delivered using standard components and VertEx base units. The VertEx Booth is available with the full range of AirBench filters.
t: 01206 791191
Click here for the full unedited version of the release as provided by the company