Rotating tube furnace
Published: 17 September, 2015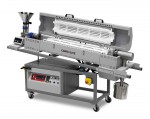 CARBOLITE reports it has developed a new horizontal furnace with a rotating work-tube for continuous heat-treatment of powders or granulates at temperatures up to 1150ºC in air or inert gas. The company says the RHZS furnace is based on its well-proven HZS 12/900 model but provides more flexible sample processing through the adjustment of tilt and rotation speed of the work-tube, allowing the heating of each sample to be precisely controlled.
Samples are automatically fed into the tube from a Retsch vibratory feeder and collected at the exit end in a 5-litre container fitted to the furnace frame.
The split design of the furnace allows the work-tube to be easily removed and replaced whenever required. Work-tubes up to 110mm external diameter can be used.
t: 01433 620011
e: info@carbolite.com
Click here for the full unedited version of the release as provided by the company