Products on show
Published: 06 August, 2015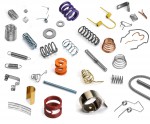 LEE SPRING will exhibit a number of new products at the Northern Manufacturing & Electronics show 2015, from 30 September to 1 October on stand L61 at Event City, Manchester.
The company says its latest Series 22 catalogue will launch on-line around the time of the show and will contain a number of additions including an increased range of Lite Pressure springs, Belleville washers and Compression springs designed to meet Military Specific Standards. These introductions follow the successful new 'Skinny & Strong', low index, High Pressure Compression Springs, an increased Metric Bantam™ Mini Compression Spring offering and the latest in Heavy Duty Die Springs all released within the last year.
Products on display on the Lee Spring stand will include compression, plastic composite, extension, torsion and REDUX Wave springs.
t: 0118 978 1800
Click here for the full unedited version of the release as provided by the company