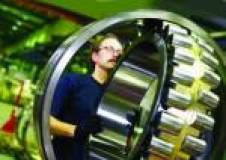 Bearings that go even further
Published: 27 January, 2014
Over more than a century, bearings have evolved into ever-more robust and reliable components that can function in the most contaminated conditions. Phil Burge, country communication manager for SKF, explains many bearings have such integrity that they can now be remanufactured to cut costs and boost sustainability even further.
Bearings continue to undergo substantial improvements as the result of continued research and development, despite already high performance of components by the leading manufacturers. New materials and manufacturing processes, in addition to innovations in bearing design, are further enhancing service life, reliability and load carrying capacity. And now there is another dimension to the equation of bearing lifespan: remanufacture.
The process is not yet a familiar one in all industries but is certainly growing in popularity. For example, in the aircraft industry it is already common practice to remove rolling bearings during maintenance intervals and rework them for extended service life. In other sectors, too, it is not surprising to see rolling bearings remanufactured as they age in order to extend their operating life. This is especially true of larger bearings used in heavy machinery, including steel and paper mills, and in power generation and renewable energy.
The beginnings of bearing remanufacture can be traced back to the mid-1950s, when leading bearing theorist Arvid Palmgren proposed that, "The mean service life is much longer than the calculated life, and those bearings that have a shorter life actually require only repairs by the replacement of the part that is damaged first." Today, remanufacture has become a reality, assisted by advances in vibration monitoring and repair techniques: the presence of damage, measured by rising noise and vibration levels, is now identified with increasing reliability, while repair techniques have been repeatedly enhanced to restore and extend the lifespan of bearings.
More engineers and plant operators can and should take advantage of this option but, as with all good processes and products, adopting the right approach requires an understanding of the different stages of wear that occur during the life of a bearing, and of which types of wear can be addressed by remanufacturing.
The argument for taking the time to investigate remanufacture is strong: cost-benefit analysis has shown that remanufacturing can yield a saving of as much as 80% against the cost of a new bearing. The remanufacturing process is also a positive boon for sustainability; SKF estimates that the remanufacturing of 100 kg of used bearings leads to a reduction of about 350 kg of CO2 emissions. Considering that today's roller bearings offer levels of performance and length of operating life that were undreamt of even a few years ago, the option to further extend life makes a persuasive case for a) buying from the market-leaders and b) using those expert suppliers to advise upon and conduct remanufacture.
The remanufacturing process can comprise a wide range of activities but is conveniently divided into classes, which describe different series of actions that can be performed to rework bearings. Class I – Reclassification, typically includes services such as buffing, polishing, grinding of scratches and grooves, and demagnetisation. Class II – Refurbishment (Reconditioning) includes all of the services offered by Class I and may also include further actions such as the replacing of rolling elements, cages and/or seals. Class III includes the previous operations and may involve adding oversize rolling elements of a larger nominal diameter, while Class IV considers all the options of the previous classes but may add the installation of a new ring.
It is important to note that not all bearings or bearing components can be reworked; it depends on the type of fatigue that has caused the damage. For example, a clear distinction will be made between subsurface-initiated fatigue and surface-initiated fatigue. The former describes the shear stresses that appear cyclically immediately below the load carrying surface of the ring(s) and rolling elements. These stresses cause cracks underneath the surface that gradually extend to the surface and, as the rolling elements pass over the cracks, fragments of the material break away, a process familiarly known as 'spalling'. When a bearing raceway is damaged by subsurface-initiated fatigue it is not considered for reworking but where there is surface initiated fatigue to the bearing raceways caused by dirt or debris, raceways can often be restored by honing or grinding.
So, bearing in mind that the remanufacturing process can comprise a wide range of activities and that these activities will be judged by the initial assessment, what might a typical remanufacturing process include? Reworking can result in the grinding or polishing of bearing side faces, bore diameter and outside diameter, while a nickel or chrome plating may be applied to allow the surfaces to be reground or polished to their original dimensions.
What may surprise engineers who have not yet considered remanufacture is that processes such as replating and regrinding can result in a surface finish that is even better than that specified by the original blueprint. Bearings are then typically refitted with new rolling elements, while cages are inspected for cracks and potentially remanufactured by replating. With all issues assessed and addressed, the bearing is then reassembled.
As these examples illustrate, there are many pathways to take in remanufacture, depending upon the bearing and its condition, and there are further options available where larger bearings are concerned. Here, a deeper grinding of inner and outer ring raceways, along with further machining methods such as hard turning can achieve excellent results. Superficial damage is removed by these processes, and the stressed material volume is modified.
The need to cut costs and reduce waste has led many operators to consider remanufacture and reconditioning, and calculating the potential savings in both cash and emissions that can be made, results in some attractive figures and percentages.
Even the best bearings are prone to damage during mounting, or as a result of everyday operational issues such as contamination, vibration, water ingress, electrical erosion, chemical corrosion and high temperatures. These conditions can cause a variety of damages to rings and rollers, such as dents, wear, burns and corrosion. In combating these problems, the opportunity to increase efficiency and sustainability through remanufacturing and reconditioning now sits alongside the provision of good lubrication and the establishment of preventative maintenance programmes as a powerful tool with which to protect profitability.
For further information please visit: www.skf.co.uk