New water saving evaporative condenser
Published: 02 March, 2007
The new B.A.C. HXC water saving evaporative condenser is, according to the manufacturer, the first condenser that takes full advantage of the low condensing temperature capability of evaporative cooling while using air cooled technology, and thus saving water, when the condensing load or ambient temperature falls. The HXC uses intelligent controls which match the load to the capacity of the condenser thus optimising water savings.
The HXC makes use of combined heat transfer technology. The refrigerant gas is first fed to a stainless steel coil with aluminium fins at the top of the unit where the dry air cooled portion of the condensing capacity is achieved before the refrigerant passes in series to the evaporative coil. This is a conventional hot dip galvanised steel condensing coil mounted above a fill pack and with its own recirculating water system. This arrangement achieves the highly efficient evaporative cooling portion of the unit's condensing capacity.
Evaporative condensers are also included on the UK Energy Technology List.
For further information please visit: www.baltimoreaircoil.be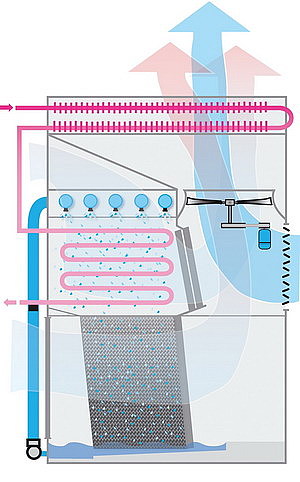 The HXC makes use of combined heat transfer technology first introduced in B.A.C.ís evaporative condenser CXV range