Headline News
Two of the country's best-recognised and most reputable names in health and safety have announced a new partnership that will further increase their ability to protect people from injury and ill health.
Latest Features
Andy Jones, managing director at Mattei (pictured), explores how a two-stage sliding vane compressor coupled with the novel intracooling system could present the compressor solution of the future.
A steel producer has installed a condition monitoring solution from Schaeffler to help prevent unscheduled stoppages to its critical furnace deflection rolls. PWE reports.
The offshore industry faces two main challenges: maximising production within the limits of the reservoir, and minimising operational costs while maintaining the safety of the platform. Pumps form one of the main groups of equipment that influence the outcome of both challenges and they require expert knowledge to ensure continued reliability and performance. Murray Wilson, Sulzer UK reports.
What does a historical building and an industrial plant have in common? For Malta's Grand Master's Palace, it's a smart HVAC system. As smart technology develops, building managers are increasingly turning to automation systems to streamline their processes. Vincent Deguara, operations manager at building automation provider JMartans Automation, looks at what facilities managers can learn from industrial automation.
With the ever-increasing pressure to improve energy efficiency in the UK, car manufacturers are leading by example. PWE reports.
Video of the month
Editor's Comment
With the ongoing political shenanigans (some would say organised chaos, others just outright chaos – I'll let you decide which is the most apt), in full flow, it was rather comforting that the recent Budget was a practical, realistic statement from a Chancellor who is wise to keep firepower in reserve should the economy enter choppy waters when the UK leaves the EU.
Product & Services Directory Suppliers
Sign up for the PWE newsletter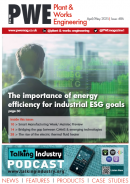 Latest issue
To view a digital copy of the latest issue of Plant & Works Engineering, click here.

View the past issue archive here.

To subscribe to the journal please click here.
To read the official BCAS Compressed Air & Vacuum Technology Guide 2018 click the image
.
Poll
"What is the most important issue for UK manufacturers during Brexit negotiations? "
Twitter