Headline News
Labour turnover in manufacturing has increased for the second year in succession as employees take advantage of a buoyant jobs market and skills shortages to move jobs according to the latest annual Labour Turnover survey from Make UK, the manufacturers' organisation.
Latest Features
Heat, contamination and unpredictable weather constantly threaten to disrupt the performance of offshore oil and gas facilities. These unforgiving conditions can be detrimental to the performance of drilling equipment, pumps and extraction machinery — but what steps can be taken to ensure quality engineering at sea? Chris Johnson, managing director of SMB Bearings, explains why, sometimes, it's the little things that count.
It can be a challenge to maintain efficiency in manufacturing processes that rely on rapid temperature change, they are energy intensive and will often form a natural bottle-neck in an overall process. Implementing a new control strategy that is both more accurate and responsive can therefore bring improvements to both productivity and process efficiency. PWE reports.
Kevin Price from Infor examines the importance of standards in optimising asset management.
Finding the most effective solution to upgrade a pumping station can be a complex process. Striking the balance between improved performance and minimised costs requires experience and excellent technical abilities. ECS Engineering Services recently delivered a cost effective refurbishment project for the Environment Agency that initially had some very ambitious costs. PWE takes a closer look.
Video of the month
Editor's Comment
As British manufacturing transforms, modernises and adapts to a new set of challenges and opportunities in the years ahead: Brexit, digitalisation, automation, artificial intelligence and the emergence of new markets, how well we respond to them will ultimately reflect our future success as a manufacturing nation.
Product & Services Directory Suppliers
Sign up for the PWE newsletter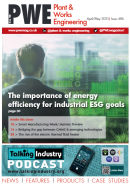 Latest issue
To view a digital copy of the latest issue of Plant & Works Engineering, click here.

View the past issue archive here.

To subscribe to the journal please click here.
To read the official BCAS Compressed Air & Vacuum Technology Guide 2018 click the image
.
Poll
"What is the most important issue for UK manufacturers during Brexit negotiations? "
Twitter