Headline News
Britain's manufacturers are urging the Chancellor to use his forthcoming Spending Review and Budget to set out the Government's long-term vision for the economy to help boost recovery and business confidence.
Latest Features
Typically, a fifth of UK industry's electricity bill is attributed to the production of compressed air, but it is a sobering fact that a substantial portion of the generated power dedicated to its production is energy wasted. So how is a VSD compressor different from a conventional fixedspeed unit? PWE reports
Floor cleaning and maintenance are at the heart of any building care operation and industrial premises are no exception. The variety of flooring has grown as manufacturers develop new materials and products designed for better safety, greater resilience, lower costs, and other benefits. Meanwhile, innovations from floorcare suppliers aim to make cleaning and maintenance simpler, less expensive, and more sustainable. This has increased the number of options but also made choosing the right product for a particular application more complex than ever before. Terry Burt* reports.
In 2015, with business improving but original process equipment reaching end-of-life, Rebellion Beer Company bucked the trend and, with impartial advice from heat transfer specialist Fulton, replaced its ageing steam boiler for a thermal fluid system. Now, six years on, Rebellion's Mark Gloyens explains how brewery life has coped with the switch. PWE reports.
Variable speed drives (VSDs) and soft starters provide ways to reduce the energy consumption of a motor by providing operators with solutions for control over their power. But which is the most appropriate choice? Marek Lukaszczyk* gives his advice for choosing a VSD or soft starter.
Data can elevate the maintenance function from being a quick fix to keep production lines running, to being a vital tool for enterprise success. Dan Rossek* explains how to raise your maintenance strategy to this level by accessing and repurposing data that already exists.
We've seen a gradual increased presence of robots on manufacturing factory floors, and industries that have embraced automation have seen an increase in efficiency and productivity. Gary Livingstone* reports
Video of the month
Editor's Comment
As the Job Retention Scheme, also known as furlough, comes to an end, and indications that the recovery is still gathering strength, it is clear the impact of Covid-19 will also leave a scar on the UK's economic growth.
Product & Services Directory Suppliers
Sign up for the PWE newsletter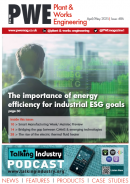 Latest issue
To view a digital copy of the latest issue of Plant & Works Engineering, click here.

View the past issue archive here.

To subscribe to the journal please click here.
To read the official BCAS Compressed Air & Vacuum Technology Guide 2018 click the image
Poll
"How is your manufacturing business preparing for a net Zero target?"
Twitter