Headline News
British Safety Council has announced the organisations that have been awarded the esteemed Sword of Honour and Globe of Honour Awards for their exemplary management of health, safety and environmental risks during the past year.
Latest Features
Last year marked the 50th anniversary of the iconic 1971 film Willy Wonka & the Chocolate Factory, but was also the setting for a classic Hollywood computer cameo from Siemens involving an overconfident engineer who fails to demonstrate "the greatest miracle of the machine age" by using a supercomputer to reveal the locations of the final golden tickets. PWE reports
Southern Manufacturing & Electronics makes its return to Farnborough from 8 -10 February. PWE looks at the forthcoming event.
Phrases like 'Smart Manufacturing', 'Industry 4.0' and the 'Industrial Internet of Things (IIoT) are widely used terminology in the context of today's manufacturing environment. However, these concepts, which embody the idea of using technology to benefit manufacturers, are slow to be adopted, particularly by companies operating within more mature, traditional sectors. PWE reports.
With the launch of Gates' GT4, the company highlights how it has conducted the most comprehensive ratings development plan in its history in order to provide its customers with the most accurate predictive tools in the industry. PWE reports.
There has been a growing awareness of the availability and application of sound level meter apps providing noise measurement functions. Clarke Roberts* explains further.
Determination, measurement and detection of colours in industrial applications are complex measurement tasks. Compared to other physical quantities, it is difficult to define colour. Glenn Wedgbrow* reports.
Video of the month
Editor's Comment
Happy New Year - and what a rollercoaster of a beginning! At the end of last year, many manufacturers were nervous at the prospect of further restrictions but as we've seen over the last few weeks, this threat has now been significantly reduced and consequently UK manufacturing is seeing a very significant level of optimism returning. The recent Make UK growth outlook survey for 2022 has indicated that the majority of manufacturers surveyed believe that conditions will improve for the sector in 2022 and that opportunities will outweigh the risks. It was also highlighted that the emergence of the Omicron variant has not impacted this confidence as many manufacturers have seen little to no disruption because of it. But to take advantage of the opportunities that may present themselves in 2022 manufacturers need to prioritise improving productivity, skills, as well as new product development. In addition, changes in environmental practices need to be accelerated to begin transforming to net zero.
Product & Services Directory Suppliers
Sign up for the PWE newsletter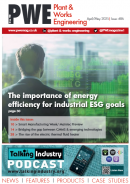 Latest issue
To view a digital copy of the latest issue of Plant & Works Engineering, click here.

View the past issue archive here.

To subscribe to the journal please click here.
To read the official BCAS Compressed Air & Vacuum Technology Guide 2018 click the image
Poll
"How is your manufacturing business preparing for a net Zero target?"
Twitter