Headline News
Some of the world's leading experts in cyber security have pooled their academic and industry insights to produce an authoritative guide that could help organisations to future proof their resources. The guide, the first of its kind, will also help expand the capabilities of those who will be at the forefront of tackling the challenges of an increasingly connected world.
Latest Features
Gubba has invested in thermal imaging to prevent any insulation failures or electrical faults compromising temperature regulation and uniformity or increasing energy consumption. PWE reports.
Leading companies, who use assets intensively, know that effective asset maintenance is a foundation stone for long-term competitiveness.
A sealing solution provided by FPE Seals has helped Jackweld with the design of a welding method for joining rail tracks.
Back in the pioneering days of photo-electric sensing technology the sensor itself was often referred to as a 'magic eye'. To the unenlightened, only familiar with purely mechanical solutions, the use of light may indeed have seemed mysterious and magical. Now confined to history these cumbersome devices with their incandescent light source are a far cry from the ultra-efficient, LED or laser based products available today. PWE reports.
Video of the month
Editor's Comment
In these uncertain times, with Brexit still unresolved and a General Election around the corner, we must not lose sight of the opportunities UK manufacturing can and must take advantage of irrespective of the outcome for either.
Product & Services Directory Suppliers
Sign up for the PWE newsletter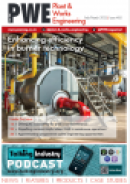 Latest issue
To view a digital copy of the latest issue of Plant & Works Engineering, click here.

View the past issue archive here.

To subscribe to the journal please click here.
To read the official BCAS Compressed Air & Vacuum Technology Guide 2018 click the image
Poll
"What is the most important issue for UK manufacturers during Brexit negotiations? "
Twitter