Headline News
Manufacturers, supported by Made Smarter, have embraced a new approach to leadership during the coronavirus crisis.
Latest Features
PWE spoke to Steve Smith, director, Hi-line Industries Ltd, about how his company went from developing an unbranded sanitising product which was initially used to protect his own staff from COVID-19 to the branded Hi-Kleen and then to an aerosol he could leave behind with his customers, and finally to an established product which now forms a strong part of his business.
Every moment that a production line or facility is shut down owing to technical problems is a major cost burden. Happily, most facilities today do have a coherent maintenance programme. However, many facility managers question whether preventive maintenance or predictive maintenance is best. In fact, best-in-class maintenance programmes incorporate both. PWE reports.
Bondlok UK a leading adhesives and sealants company has announced it has "bonded" with the University of Bolton which will help students to learn the latest in motorsport industry techniques.
Many industrial environments are chilled to significantly below the ambient climatic temperature and high-speed shutter doors are the best way to maintain a clear division between inside and out. PWE reports.
Video of the month
Editor's Comment
The UK Government has confirmed it has given the green light for trade exhibitions to go ahead from October this year, which is an extremely positive development for industry as it will give manufacturers the opportunity to begin to identify the technologies and services they need first hand, to help them recover from the Covid-19 crisis. One of the first events to be held will be the biennial co-located events; Plant & Asset Management, Smart Industry Expo, Drives & Controls, Fluid Power & Systems, and Air-Tech Exhibitions, organised by DFA Media - publisher of Plant & Works Engineering magazine - which will be taking place between January 25th-27th 2021, alongside MACH.
Product & Services Directory Suppliers
Sign up for the PWE newsletter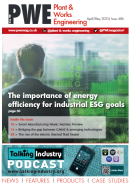 Latest issue
To view a digital copy of the latest issue of Plant & Works Engineering, click here.

View the past issue archive here.

To subscribe to the journal please click here.
To read the official BCAS Compressed Air & Vacuum Technology Guide 2018 click the image
Poll
"What is the most important issue for UK manufacturers during Brexit negotiations? "
Twitter