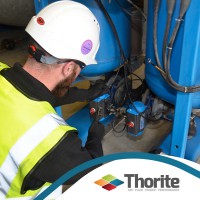 For Total Peace of Mind - Thorite's Service & Maintenance Packages
Published: 03 March, 2022
THORITE is known throughout the industry for its expertise in pneumatics, hydraulics, and vacuum technology, as well as distributing compressors, ancillary equipment and spares from market-leading brands through its new webstore and UK-wide network of Sales & Service Centres.
Thorite's Aftermarket Solutions package has been developed by a team of service specialists who assist customers in selecting different aspects of the aftermarket service options to best match their specific application.
Included in the aftermarket services are flexible maintenance and service agreements for total peace of mind, ensuring the lifespan of your equipment while decreasing production downtime and optimising system performance.
Integrated technologies enable Thorite to monitor and plan maintenance schedules that work for you, while extended warranties and one-off repairs are also available, as are comprehensive service agreements and maintenance plans with 24-hour service and fast emergency response times. Thorite guarantees the best service level, value, and professionalism for your equipment at every step.
For more information visit www.thorite.co.uk/services or contact us on 0800 034 1041 or service@thorite.co.uk
Thorites Full List of Aftermarket Services:
• Air Purity Testing
• Energy Saving Services
• Field Service & Repair
• Installation & Start-up
• Service Agreements
• Extended Warranties
• Compressed Air System Audits & Surveys
• Genuine OEM Spare Parts
• Workshop Overhaul
• Emergency Rental, Hire & Used Equipment