Headline News
Commenting on today's A Level results, Bhavina Bharkhada, education and skills policy adviser at EEF said:
Latest Features
After the installation of a Nor-Ray-Vac system in the high bay and main locomotive shed at Orient Express 28 years ago, the system now needed to be replaced. Orient Express approached Multigas and asked them to assist with the replacement of the existing and also an additional two areas that were previously unheated. PWE reports.
Published on 15th March 2018, ISO 45001:2018 constitutes the world's first occupational health and safety international standard. Businesses are being urged to take up the mantel and ensure they are 'ISO 45001 compliant' ahead of time in order to help improve standards for all.
PWE takes a look at the CEA's 'I-GAS' qualification for maintenance personnel and gas fitters working in industry to demonstrate competence.
Henkel says its innovative BONDERITE M-PP coating process delivers a simple and economical alternative to electro coating and for one European manufacturer, adoption of the technology has underpinned its survival. The process not only provided conformity with increasingly tight environmental legislation, enabling production to continue, but it also boosted product quality too.
RITTAL says it embraces the need for a high degree of responsibility for the safety of users and the electrical equipment its enclosures are designed to protect and as such the company has a policy of always being on the front foot when it comes to fully complying with international regulations.
Video of the month
Editor's Comment
Recent discussions by industry organisations and UK manufacturers have highlighted that Standards, not just Customs, are key to post Brexit trade success.
Product & Services Directory Suppliers
Sign up for the PWE newsletter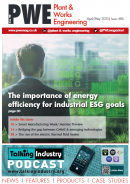 Latest issue
To view a digital copy of the latest issue of Plant & Works Engineering, click here.

View the past issue archive here.

To subscribe to the journal please click here.
To read the official BCAS Compressed Air & Vacuum Technology Guide 2018 click the image
.
Poll
"What is the most important issue for UK manufacturers during Brexit negotiations? "
Twitter