Headline News
EEF, the manufacturers' organisation has called for a new, independent Foreign Investment Evaluation (FIE) process as part of a wider framework to assess the potential benefits of foreign takeovers of UK companies.
Latest Features
It is critical that machinery and equipment in the manufacturing industry operates at optimal efficiency at all times. By taking a closer look at fluid analysis, the industry could save money and improve reliability. Steve Haughton, technical manager at Finning UK & Ireland (Finning), discusses the advantages of a condition-based approach, outlining how fluid analysis can provide visibility of equipment performance and health.
A motor control centre (MCC) sits at the heart of an industrial plant. If well maintained, an MCC can last for decades, but despite their sturdiness, even the most reliable MCCs have to be retired at some point. Pat McLaughlin, operations director of Boulting Group, explains the early warning signs that an MCC needs replacing. There are several reasons for replacing an MCC, but the most common ones include obsolescence, incompatibility with new legislation or the condition of the MCC deteriorating. Technological advancements that allow the design of intelligent, more efficient MCCs are another reason why companies sometimes opt for an upgrade.
Boiler operators are reminded of water hammer & thermal expansion threat as heating season approaches. PWE reports.
The Association of Electrical and Mechanical Trades' (AEMT) training course, Repair, Overhaul and Reclamation of Ex Equipment has had another successful group pass their assessments in Loughborough, with all delegates saying what they learned was invaluable for their working lives. PWE reports.
From tank farms to petrochemical plants, exposure to toxic gases is one of the biggest risks workers face, especially those who work remotely and or alone. PWE spoke to Prabhu Soundarrajan, Global Connected Worker Leader for Honeywell Industrial Safety, about how the latest Industrial Internet of Things (IIoT)-enabled technology is pushing the boundaries of gas detection and monitoring, while also helping businesses increase productivity.
Video of the month
Editor's Comment
From a business community's perspective it is clear that establishing how the UK manufacturing and industrial sectors adapt to a highly digitalised future (and benefits from the opportunity this brings) will be a fundamental factor of any future economic success. This is now more important than ever especially as investment by Britain's manufacturers has seen a reality check in response to the continued political uncertainty.
Product & Services Directory Suppliers
Sign up for the PWE newsletter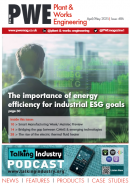 Latest issue
To view a digital copy of the latest issue of Plant & Works Engineering, click here.

View the past issue archive here.

To subscribe to the journal please click here.
To read the official BCAS Compressed Air & Vacuum Technology Guide 2016 click here
.
Poll
"What is the most important issue for UK manufacturers during Brexit negotiations? "
Twitter