Headline News
Four drivers from Staffordshire have been presented with prestigious health and safety awards, given only to those who have gone above and beyond to protect the wellbeing of others.
Latest Features
In a move that sees Fulton fully embrace the requirements of the Medium Combustion Plant Directive (MCPD), the company has announced a series of plans – including a review of its product portfolio – to strengthen its position as a leading global provider of heat transfer solutions. PWE reports on the plans.
As more companies move to a predictive model of equipment maintenance, they are looking for ways to use connected devices to improve field service. George Walker, managing director of field service management software provider Novotek UK and Ireland, explains how the Internet of Things (IoT) is changing field service.
Whether designing new systems, or reviewing existing systems, the first step should be to define exactly what are the compressed air purity requirements. Ensuring you have the correct advice is key and the dryer is only part of the process. The British Compressed Air Society (BCAS) reports.
A combination approach will help maintenance engineers overcome key challenges. Mark James, RS product manager, Automation and Control, for Northern Europe, reports.
Although screw air compressors account for a large share of the market, vane technology should not be underestimated when it comes to reliability and its ability to deliver in harsh environments. Andy Jones, managing director at Mattei, looks at how the design of vane air compressors improves energy efficiency without compromising on performance.
Video of the month
Editor's Comment
The ability to access skills post-Brexit, has been an ongoing concern since the EU Referendum. As the Brexit clock counts down to March next year, these concerns are significantly increasing and many manufacturers are getting nervous for both their businesses and employees.
Product & Services Directory Suppliers
Sign up for the PWE newsletter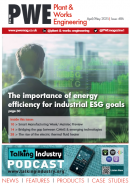 Latest issue
To view a digital copy of the latest issue of Plant & Works Engineering, click here.

View the past issue archive here.

To subscribe to the journal please click here.
To read the official BCAS Compressed Air & Vacuum Technology Guide 2018 click the image
.
Poll
"What is the most important issue for UK manufacturers during Brexit negotiations? "
Twitter