Headline News
Britain's manufacturers are calling on the Government to abandon further examination of the so-called 'Max-Fac' option for future UK and EU Customs, describing the idea that it could implemented by 2020 as 'naïve' and 'wholly unrealistic' with the consequences of getting it wrong as 'immense'.
Latest Features
FLUKE PROCESS INSTRUMENTS has announced it has launched the Thermalert 4.0 spot pyrometer series for automatic noncontact temperature monitoring between -40 °C and 2,250 °C. The series currently comprises 13 models with varied spectral responses, including dedicated sensors for metals, glass, and plastics products.
Q: Several heat treatment processes are available for gears, what's the difference between them? The answer to this month's trouble shooter question is provided by Dennis Lawson, gear expert with R. A. Rodriguez.
A manufacturer of sheet metal assemblies recently sought a solution to short lifespan issues with the drive and guide elements on its automated welding systems. In fact, the linear guides for a robotic welding gun on one particular production line had to be replaced every two or three months. Due to the cost of replacement parts and maintenance time, as well as equipment downtime, the company asked NSK to investigate and provide a proposal to address the problem.-Image1.jpeg - Linear guides in robotic welding systems are subject to harsh operating conditions
Highland Spring, supplier of natural source bottled spring water, has selected Spidex's Mainsaver CMMS, to support best-practice maintenance at its plant in Blackford, Perthshire. PWE takes a closer look.
When selecting a non-contact capacitive displacement sensor, a number of key factors need to be considered, including target size and shape, guarding method and bandwidth. As well as clean environments, the sensors can also operate in dirty, dusty industrial areas too, says Chris Jones of Micro-Epsilon.
Video of the month
Editor's Comment
Industry 4.0 and The Industrial Internet of Things (IIOT), presents huge opportunities for British manufacturing over the next decade, and the recent biennial co-location of events at the NEC, including Plant & Asset Management, Smart Industry Expo, Air-Tech, Fluid Power & Systems, Drives & Controls, and MACH left visitors in no doubt that the 'smartening' process of industry and manufacturing is going to change the face of global industry forever.
Product & Services Directory Suppliers
Sign up for the PWE newsletter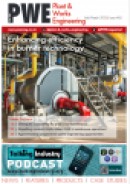 Latest issue
To view a digital copy of the latest issue of Plant & Works Engineering, click here.

View the past issue archive here.

To subscribe to the journal please click here.
To read the official BCAS Compressed Air & Vacuum Technology Guide 2018 click the image
.
Poll
"What is the most important issue for UK manufacturers during Brexit negotiations? "
Twitter