Headline News
Geoff Baker MSc CEng FIMechE has assumed office as the 133rd President of the Institution of Mechanical Engineers and has set out an exciting vision for the future of the Institution.
Latest Features
His Royal Highness The Duke of Kent has this week officially opened a new state-of-the-art corporate head office in Poole, Dorset for BOFA International, a leader in industrial fume and dust extraction technology.
PULSAR INSTRUMENTS has announced it is holding its 30th One Day Noise Awareness Training Course on 13 June 2018 at the National Space Centre, Leicester. The company says its one day noise awareness course offers comprehensive training on how and why to measure noise, what to measure and how often to measure it.
Almost any place of employment can present a potential threat to health and safety from airborne particulates and aerosols. It is important to note, however, that dust hazards are not necessarily visible to the human eye and that the finest particles can represent the greatest threat because of their ability to travel deepest into the lungs. Effective monitoring is therefore key to the implementation of an effective risk management strategy. Josh Thomas of Ashtead Technology, reports.
SAFETY UNLIMITED, a critical storage specialist, says its new unrivalled and highly versatile Pushback System allows customers to stack pallets containing any permutation of drums or IBCs within the same ultra accessible, time and space saving unit. Drums are four per pallet and IBCs two at a time across a total of 24 pallets two deep, on two levels.
Loading bays often need to be heated (or cooled), either to protect stored goods or to provide a comfortable working environment, but with large doors open for significant periods of time heating costs can be high. Louise Nurse of loading bay specialists, sara LBS, says it is natural for senior management to want to control this cost, but a practical rather than theoretical approach must be used.
For manufacturers interested in harnessing Industry 4.0, condition monitoring is often a quick win. It can reduce downtime, extend the lifetime of equipment, and improve Total Cost of Ownership (TCO). Like Industry 4.0, however, it is also in danger of becoming yet another "buzzword" that is mentioned frequently, but not understood. David Manning-Ohren, condition monitoring manager at ERIKS UK, sheds some light on how to implement condition monitoring effectively, regardless of the business or the budget.
Video of the month
Editor's Comment
Industry 4.0 and The Industrial Internet of Things (IIOT), presents huge opportunities for British manufacturing over the next decade, and the recent biennial co-location of events at the NEC, including Plant & Asset Management, Smart Industry Expo, Air-Tech, Fluid Power & Systems, Drives & Controls, and MACH left visitors in no doubt that the 'smartening' process of industry and manufacturing is going to change the face of global industry forever.
Product & Services Directory Suppliers
Sign up for the PWE newsletter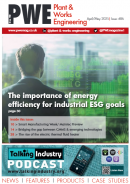 Latest issue
To view a digital copy of the latest issue of Plant & Works Engineering, click here.

View the past issue archive here.

To subscribe to the journal please click here.
To read the official BCAS Compressed Air & Vacuum Technology Guide 2018 click the image
.
Poll
"What is the most important issue for UK manufacturers during Brexit negotiations? "
Twitter