Headline News
Plant & Asset Management 2018 (10th -12th April, Birmingham, NEC), the UK's premier event for plant, asset, maintenance and works management engineers and directors, will once again open its doors to showcase the very latest in condition monitoring, computerised maintenance management, Maintenance 4.0, outsourcing/contract maintenance, energy efficiency, boilers/burners/combustion, handling and storage plus much more.
Latest Features
Some suggest it can take years to become an expert in infrared (IR) imaging. However, to get there a bit quicker, FLIR has identified 10 critical (and common) thermography pitfalls that are well worth avoiding in order to ensure the capture of successful thermograms: over-emphasising temperature measurements; ignoring temperature measurements; not assessing the risk; misidentifying parts; not being open-minded; not understanding the science; not understanding the limitations of IR; not understanding the capabilities of IR; over-reaching; and complacency. PWE reports.
When mobile phones were first released in the mid-1980s, a handset would set you back £3000 ($4000) — the equivalent of almost £7500 ($10,000) today. PWE looks at how smaller food manufacturers can take advantage of low-cost digital technology.
Steve Matthews, QSHE Manager UK & Ireland, Atlas Copco, looks at the potential hazards involved in compressed air use and asks how aware is industrial management of the preventative measures that can be taken, the scope of current pressure regulations and the legal obligations of compliance. He outlines the safety responsibilities of the equipment manufacturer and all involved in the supply chain and examines whether the picture has changed from the past to mitigate any of these risk factors.
When looking around at various boiler operations and asking such question as "What would happen if you lost your boiler/boilers?" The common answer is "we would lose production," or if it's a hospital then it would be "we would have to close the operating theatres." With replies of this nature it starts to become obvious that in the vast majority of cases the boilers and associated plant are the heart of the operation. Derry Carr, CEA immediate past chairman, reports.
Superior battery capacity has allowed Gaer Business to complete heavy workloads with small pallet trucks. PWE reports.
Video of the month
Editor's Comment
2018 will be an interesting year to say the least. The next few months will be especially important for UK manufacturing as the Government seeks to negotiate a transition deal with the EU, which is of critical importance for industry.
Product & Services Directory Suppliers
Sign up for the PWE newsletter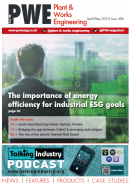 Latest issue
To view a digital copy of the latest issue of Plant & Works Engineering, click here.

View the past issue archive here.

To subscribe to the journal please click here.
To read the official BCAS Compressed Air & Vacuum Technology Guide 2018 click the image
.
Poll
"What is the most important issue for UK manufacturers during Brexit negotiations? "
Twitter