Headline News
Sulzer has inaugurated a new manufacturing site for Applicator Systems products in Wrocļaw, Poland. Strong growth in the adhesives and dental segments, for which Sulzer markets products commercially under the brand Mixpac, required additional production capacities. The new site will generate more than 100 new jobs.
Latest Features
Nick Boughton, sales manager at leading systems integrator Boulting Technology, explains how AR and VR are re-defining plant maintenance.
Martin Walsh,senior application manager Motive and Reserve Power EMEA, EnerSys, looks at how to choose the best motive power source for electric warehouse and factory vehicles.
Lesley Eaton, business development and marketing manager, SEEPEX, looks at how progressive cavity pumps can overcome the toughest processing challenges.
Gardner Denver has supplied a leading food packaging machine manufacturer with a solution to help ensure it meets required hygiene and safety standards. PWE reports.
Nick Boughton, digital lead at systems integrator Boulting Technology explains how plants with legacy equipment can retrospectively upgrade their facility to a smart factory.
Video of the month
Editor's Comment
Prioritising the rapid digitalisation of UK manufacturing and the economy as a whole is at the heart of improving industry's overall competitiveness, and predictive maintenance - the anticipatory servicing of machinery and plants - has a key role to play within any smart strategy.
Product & Services Directory Suppliers
Sign up for the PWE newsletter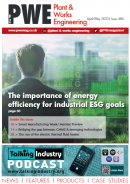 Latest issue
To view a digital copy of the latest issue of Plant & Works Engineering, click here.

View the past issue archive here.

To subscribe to the journal please click here.
To read the official BCAS Compressed Air & Vacuum Technology Guide 2018 click the image
.
Poll
"What is the most important issue for UK manufacturers during Brexit negotiations? "
Twitter