Headline News
EEF, The Manufacturers' Organisation, has kicked off its Brexit roadshow with its inaugural conference, in Birmingham, titled 'Making Brexit Work – Preparing Manufacturers for Brexit'. EEF says the event was the first in a series taking place across the country where national and regional government leaders, specialist advisers and policy experts deliver the latest insight and practical guidance on Brexit directly to British manufacturers.
Latest Features
Thermography can help detect anomalies promptly as well as being able to carry out inspections more efficiently and increase availability. Jon Bawden (pictured above), product manager, HVACR & General Instrumentation, Testo Limited, reports.
Bredel 65 hose pumps from Watson-Marlow Fluid Technology Group are now providing constant efficiency in ball-milling processes at a high-volume battery plant in China. PWE reports.
Refinery operators have a pressing requirement to improve the efficiency of flow control in their plants and they want to know from the Distributed Control System (DCS) if valves are open or closed. In a typical refinery, 10% of valves are actuated and 90% are manually operated. This poses a serious problem for end-users if the DCS does not accurately know how many manual valves are opened or closed, which limits the efficiency of their business operations.
Oil and gas-fired boilers have been providing the heating requirements for many industrial and commercial premises for over 100 years. In that time the energy efficiency of these installations has increased steadily, however there is a way to significantly reduce energy consumption that is still not universally applied and yet has a typical payback period of less than 18 months.
Buying a new boiler soon? Some new rules will probably affect you. Paul Whitehead, of the Combustion Engineering Association (CEA) reports.
Video of the month
Editor's Comment
From a business community's perspective it is clear that establishing how the UK manufacturing and industrial sectors adapt to a highly digitalised future (and benefits from the opportunity this brings) will be a fundamental factor of any future economic success. This is now more important than ever especially as investment by Britain's manufacturers has seen a reality check in response to the continued political uncertainty.
Product & Services Directory Suppliers
Sign up for the PWE newsletter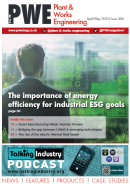 Latest issue
To view a digital copy of the latest issue of Plant & Works Engineering, click here.

View the past issue archive here.

To subscribe to the journal please click here.
To read the official BCAS Compressed Air & Vacuum Technology Guide 2016 click here
.
Poll
"What is the most important issue for UK manufacturers during Brexit negotiations? "
Twitter