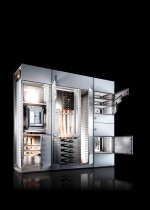 Less copper, more power
Published: 06 June, 2019
RITTAL reports it has unveiled the new Ri4Power; a streamlined copper busbar that has been designed around the new VX25 enclosure.
The company says it delivers greater levels of efficiency for panel builders and switchgear manufacturers across electrical power distribution in industrial environments.
It also offers other advantages, such as higher current ratings and easier monitoring and maintenance. Solutions based on this system have been tested and certified to IEC 61439.
Automation (including electrical drives and switchgear) is a fast-growing segment of the UK electrical and electronics industry.
Switchgear for electrical power distribution and motor control centres therefore has to evolve to meet what amounts to ever-higher demands, including higher current ratings in conjunction with compact dimensions. Rittal says its new Ri4Power, based on its VX25 enclosure, meets all these challenges.
e: information@rittal.co.uk
w: www.rittal.co.uk / www.friedhelm-loh-group.com
Click here for the full unedited version of the release as provided by the company