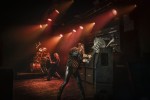 Smash-proof, 3D printed guitar
Published: 23 May, 2019
Rock stars have been smashing guitars for decades, few with more enthusiasm than Swedish born guitar virtuoso, Yngwie Malmsteen. Sandvik says it decided to test its cutting edge techniques by building the world's first all metal, unbreakable guitar and letting Malmsteen unleash his smashing skills on it. View the film, in which Malmsteen plays the guitar than does his very best to destroy it.
https://www.youtube.com/watch?v=k1hxZyD9VGI
Sandvik, a world leader in material innovation and manufacturing, says it created the smash-proof guitar by gathering together its engineers to collaborate and use sustainable, cutting-edge techniques to make something both highly precise and extremely durable.
"This guitar is a beast! Sandvik is obviously on top of their game. They put the work in, they do their hours, I can relate to that," said Malmsteen.
w: www.materials.sandvik/en-gb/
Click here for the full unedited version of the release as provided by the company