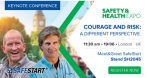 Safety & Health Expo 2019: courage and risk – a different perspective
Published: 01 May, 2019
Can you reduce human error and eliminate up to 95% of workplace injuries? Join Eddie the Eagle, former British Olympic Ski Jumper, and Larry Wilson, CEO and author of SafeStart International, at SHExpo this June for the answer. The safety duo will address the topic of courage and risk at this year's Safety & Health Expo 2019, Wednesday 19th June, ExCeL London UK Keynote Theatre, 11:30 – 12:30.
The majority of common workplace injuries happen in everyday situations. Health & safety managers will understand that rushing, frustration, fatigue and complacency are normal states you will face in the working day, however, what most do not realise is that this state-to-error risk pattern is responsible for more than 95% of all injuries.
Eddie the Eagle and Larry Wilson will present how organisations can tackle these common safety pain points, moving beyond compliance and reducing the common causes of workplace injuries.
Click here for the full release
For more information, visit www.safety-health-expo.co.uk and SafeStart UK, visit uk.safestart.com