New Home for the East Midlands' Big Bang
Published: 07 December, 2018
Young people from across the East Midlands will come together to find out about career opportunities in disciplines involving science, technology, engineering and maths (STEM) as the annual event moves to Derby Arena in June.
The Big Bang Fair East Midlands, part of the Engineering UK national programme to encourage young people into careers in STEM, will increase event participation from 2,000 to 3,000 school children and home educators as a result of the move to its new home on Pride Park in Derby.
The event, set for 27th June 2019, aims to be bigger and more elaborate than ever before, as the push to drive career inspiration into the landscape of East Midlands schools is ever stronger, with Engineering UK reporting that 203,000 roles requiring engineering skills are needed to be filled annually through to 2024.
As well as engaging hands-on activities, have-a-go workshops and inspirational speakers this year will also see 'sector zones' throughout the exhibition area for young people to explore, all with the overarching aim of filling the STEM skills gap for the future. Schools can also take part in The Big Bang Competition to find the regional Young Engineer and Young Scientist of the Year.
Bringing together businesses and career leaders is at the heart of the event, as Learn By Design's director of programmes, Louise Curd, explains:
"The skills gap in science and engineering is our driving force and it's never been more vital for the private sector to recognise the part they play in opening the minds of young people. Whether a global company or an SME, The Big Bang Fair is a fantastic opportunity for organisations passionate about inspiring young people to break down some of the barriers facing young people and show face to face what their future career could looks like".
The launch of the Big Bang Fair East Midlands 2019 also saw Learn by Design celebrating valued partnerships this week, with the announcement of collaborations with Derby City Council, Enterprise for Education (E4E) and University of Derby.
Cllr Evonne Williams, Cabinet Member for Children and Yong People said:
"I'm delighted the Big Bang Fair is coming back to Derby for the fifth time, bigger and better than ever. This is a great opportunity for the young people in our City to learn more about careers in STEM. Derby has a fantastic range of employers working in technology and engineering and so it's also a great opportunity for them to connect with our young people.
Our E4E team have been working hard for a number of years to build these connections and so we know that these kind of events can really inspire young people to take their first steps to a STEM career.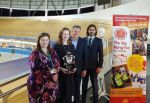 By moving the event to a bigger venue we hope to attract even more students from both Primary and Secondary schools in Derby and the East Midlands. The event will be an exciting opportunity for all students and STEM enthusiasts."
Louise Pigden, deputy dean and interim head of mechanical engineering and built environment at the University of Derby, said: "At the University of Derby, we play a significant role in the STEM disciplines through our courses and research at Further and Higher Education levels.
"Derby and the East Midlands has one of the most highly skilled workforces in the UK and a strong industry and heritage in transport innovation and manufacturing to build on, and the University plays a key civic duty in developing a highly skilled workforce with better, well-paid jobs across sectors including automotive, construction and the life sciences.
"The University is committed to encouraging young people from diverse backgrounds into STEM careers; we understand that they are the game-changers of the future, who will solve society's big challenges around clean energy, artificial intelligence, transport and caring for an ageing population. We like to think boldly at the University of Derby, which is why I'm so delighted to be supporting this major expansion of the Big Bang East Midlands, so we can reach out and open doors for more students, and inspire them on to have brilliant STEM careers."
The Big Bang Fair East Midlands will take place at Derby Arena on Thursday 27th June 2019. STEM employers and academic institutions interested in showcasing STEM careers should contact bigbang@bydesign-group.co.uk. Visitor Registration for Schools and Home Educators is now open. Visit https://nearme.thebigbangfair.co.uk/view/?eve_id=1947